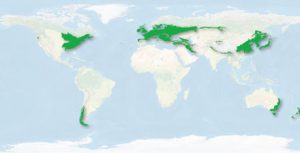 Global Importance
The 18-million acre expanse known as the Maine Woods is the most extensive stretch of nearly unfragmented forest in the Eastern United States. It is the largest intact temperate broadleaf and mixed forest in the nation and one of the best examples worldwide.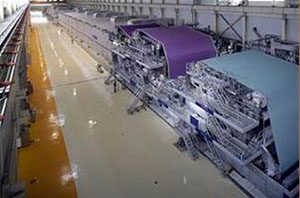 Driving the State's Economy
Maine's forests have been, and remain today, the very foundation of the state's economy. The state's forest products industry contributes more than $8 billion to the economy, and more than 200 forest products facilities are diverse and innovative, creating more than 25,000 jobs for Mainers.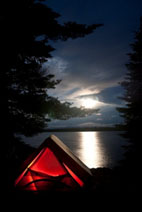 Supporting World Class Recreation
Clean water lakes, cold streams, wild rivers, rugged mountains, abundant wildlife, remote camps, and extensive trail systems, these signature features and landscapes define Maine's character, attract visitors from home and away, and support a thriving tourism economy.
21st Century Forest Products
The forest products industry is changing with the times. As a result, forest products today and in the future are diversifying as we adjust to society's economic and environmental needs.
The Forest Bioproducts Research Institute in Old Town, Maine, is developing fuel oil from wood. This fuel, like petroleum oil, can be used in combustion engines, but will have the advantage of coming from a renewable resource.
The University of Maine's Advanced Structures and Composites Center is engineering structures and materials for military applications, disaster response, bridges, boats, and off-shore wind turbines, among other uses. Their thermoplastic sheetpile, used in retaining walls, doesn't degrade or corrode, resists impacts, is environmentally inert, and costs less than traditional materials.
Wood pellets are already starting to replace No. 2 fuel oil as a heating fuel in New Hampshire and Maine. Maine has been one of the most oil-dependent states when it comes to heating fuel, with 80% of homes using oil. With more homes burning wood pellets that are manufactured in Maine from Maine-grown wood, more of Mainers' hard earned money can stay within the state's economy (in the greater Bangor area alone, approximately $40 million per year leaves the state in the form of No. 2 fuel oil purchases). Maine now has five pellet mills, with several more in the planning stages. With wood pellets, people have the opportunity to switch to a heating fuel that is locally produced from a renewable, sustainably managed resource, at a price comparable to paying $2 per gallon for No. 2 oil, while reducing their carbon emissions by 90%, their emissions of sulfur, nitrogen compounds, and particulate matter, and spurring Maine's economy. Read more about wood pellets from the Maine Pellet Fuels Association.